Welcome to the site of REDTAIL Golden Retrievers.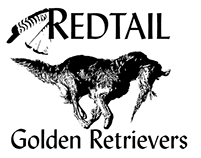 REDTAIL Golden Retrievers
Redtail's Hotty Toddy Tasha
"Tasha"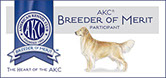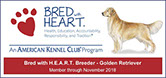 Sire: Gracie Creek Willie JH WC CCA
Dam: Mason's Golden Crazy Gracie JH
Registration: AKC SR77130603
Female DOB: February 28, 2013
Breeder: Sally Bates
Hip clearance: OFA GR-114197G29F-VPI
Eye clearance: OFA GR-EYE8320/29F-VPI
Heart clearance: OFA GR-CA28843/29F/C-VPI-ECHO
Elbow clearance: OFA GR-EL34278F-VPI
prcd-PRA status: Clear
PRA1 status: Clear
PRA2 status: Clear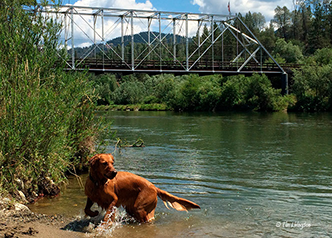 Tasha's heritage goes back to our origins with the old Golden Glen lines. She's niece to our Nellie and Hunter. When an opportunity came to bring her into our pack, we were happy to bring her home. She's an intense retriever with an affectionate demeanor and loyal heart.
Tasha is retired from breeding. If you are fortunate enough to own one of her offspring, we'd love to have photos to share.


The GRCA provides puppy referral as a convenience to puppy buyers to find out about breeders who are GRCA members and their litters. GRCA takes no responsibility whatsoever for any puppies/dogs that you may acquire through GRCA puppy referral. GRCA is not responsible for any breeder's sale practices and sales contracts, nor will GRCA be involved in any manner in contract disputes between puppy buyers and breeders. Availability of puppies and conditions of sale are at the sole discretion of the individual breeder. Buyers are encouraged to read ACQUIRING A GOLDEN RETRIEVER, as found on the grca.org website, for general information about obtaining a puppy, to take as much time as necessary to locate a reputable breeder from whom they feel comfortable purchasing a puppy, and to investigate breeders and their puppies thoroughly before committing to a purchase. You are not obligated to purchase a puppy from the breeders whose names you obtain from GRCA puppy referral.